Books on Kyogen in English by Don Kenny
1. Guide to Kyogen, Hinoki Shoten, 1986; one page summaries of about 260 kyogen plays. Available through bookstores in Japan and direct from the publisher (Japanese site only)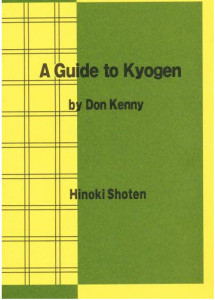 2. The Book of Kyogen in English, Dramabooks Tokyo, 1986: small anthology of primary materials used for training in the basic performing techniques; 14 poems and 6 plays, with detailed stage directions. Out of print, available free online here.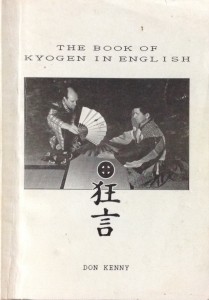 2.  Kyogen (Color Books),  by Hisashi Hata and Tatsuo Yoshikoshi, translated by Don Kenny, 1986; an excellent introduction to kyogen, with many black and white photos. No translations of plays, but detailed introduction to the various categories, etc.  Out of print, available used from online booksellers.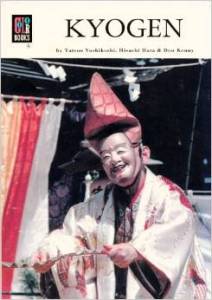 3. The Kyogen Book, The Japan Times, 1989: translations of 30 plays, plus one original kyogen. Out of print, available used from online booksellers. Introduction here.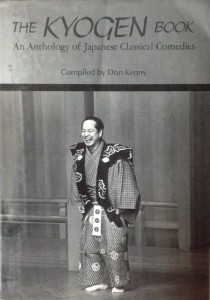 4. A Kyogen Companion, National Noh Theatre, with an introduction on the history of kyogen by Kazuo Taguchi, 1999:  a volume quite similar to Kenny's Guide to Kyogen, with summaries of all kyogen in the standard canon, with small photos accompanying most of them. Published by the National Noh Theatre. Sendagaya 4-18-1, Shibuya-ku, Tokyo 151-0051        tel 03-3423-1331  but currently out of print.
A review of A Kyogen Companion by eminent Japan film and theatre critic Donald Richie is here: Kyogen's hero